"Between the known and the unknown opens a new door" by Aldous Huxley
---
Open, courageous, like a pioneer – and versatile: There are some terms, you are bound to, if you want to describe the artist Birgit Thiel. After playing some parts in Vienna she studied with the first nudity dancer Anna Halprin in San Francisco, and acting with Lecoq and Gaullier in Paris and was engaged by the filmmaker Roger Spottiswoode. In Paris she was one of the protagonists of the vanguard cabaret- and theatrescene and sang at the opening of the first erotic museum in Paris. Back in Vienna she sang a cappella and in Sign Language for the Austrian Deaf community in the Odeon-Theatre and nowadays she creates – also as an actress – a new Viennese webserie. Birgit Thiel loves the fresh and the new – and all this abundantly: acting and singing, painting and moderation, performance and presence – right now you can see her on STILBLÜTEN.TV.
Lately Birgit Thiel also wrote the
book
, "
Memoirs of ROLF KUTSCHERA
", which appeared in the edition Styria Premium, about the theatre director and pioneer, who established the musical in the German-language territory and build up the "Theater an der Wien", which was called out a mausoleum before he made it to one of the most impressive theaters.
Article on styriabooks.com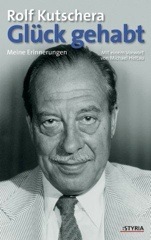 Film and TV
Bix in the new Viennese webserial STILBLÜTEN.TV

Various shortfilms with upcoming directors, France and Austria (Ö)

(P)REISE
-> Director: Ioan Gavrilovitch, Ö
MIKADO
-> Director: Sylvia ZEITLINGER, Ö
BASSLINE
-> Director: Graeme MILLER, Ö
NINTH GATE
-> Director: Roman POLANSKI, FR
MESMER
-> Director: Roger SPOTTISWOODE; Ö
ICH GELOBE
-> Director: Wolfgang MURNBERGER, Ö
ANTON
-> Director: Georg LHOTSKY, Ö

Theatre
Odeon, Theater Brett, Dramatisches Zentrum; Ö

Pigalls, Th. des Songes, div. Café-Théatre; FR und Ö

Various prod. for "Wiener Festwochen", Vienna


Voice
Recitals - Songs of the 20ies and 30ies in 4 languages; FR

Singer in the band: Wiener Viehharmoniker; Vienna

Speaker for NAD Austria, to implement SIGN LANGUAGE in the constitution for bilingual education for the Deaf

Projects with George APERGHIS; Paris



Training in Paris, San Francisco and Vienna
Vita Download